Flash Point (Dao Huo Xian)
This site was created to promote the 2008 action/ adventure movie Flash Point.
The website design was reconstructed for the Film Website Archive to permit the preservation of the original presentation elements although some of the content below is from outside review sources. Bob Sakayama and Rev Sale from the NYC SEO firm TNG/Earthling contributed technical expertise and development resources Mary Wong assisted with internet research and translation.
Rating:  R (for strong bloody violence and brutal martial arts action)
Genre: Action/Adventure
Release Date: 2007 | March 14, 2008 DVD
Running time: 88 minutes
Cast: Donnie Yen, Louis Koo, Collin Chou, Ray Lui, Bingbing Fan
Director: Wilson Yip
Producer: Cinebox
Writer: Kam-Yuen Szeto, Lik-Kei Tang
Distributor: Third Rail Releasing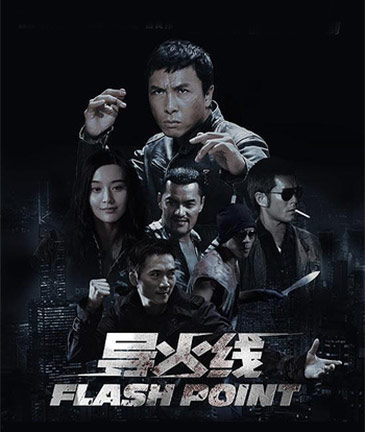 Description: One car, tearing down the road like a flash of lightning. The man, Jun Ma, Detective Sergeant, Serious Crimes Unit, like the sports car he controls, Jun is fast precise and brutal - harnessing a horse power that fears to be unleashed. Jun detests crime and his lifelong nemeses are a triad gang of three brothers - eldest brother Archer, the bully; second brother Tony, the cool calculator; youngest brother Tiger, the fighter. Their skills have seen them grow steadily in the criminal world. In order to further infiltrate the gang and fight them from within, Jun has planted a mole, Wilson, who has managed to gain the complete trust of the gang and has become their personal bodyguard. Over the years Wilson has become unhappy with Jun's impulsive and unruly style. Their disagreements in their way of working have led to constant arguments and altercations. In a heated battle between Jun and the Triad gang, Wilson's dual role is exposed and he almost gets killed. Finally, Jun intercepts Archer and arrests him and manages to force Tony and Tiger out of business. The cost is Wilson's left leg, leaving him handicapped for life. The final showdown between Jun and Tony begins.
Rotten Tomatoes Reviews
TOMATOMETER  CRITICS 40%  |  AUDIENCE 67%
CRITIC REVIEWS
June 13, 2008
Don Willmott  Filmcritic.com
Original Score: 3/5
If you're a fan of Hong Kong police flicks, then you know that at any given moment, it seems like 50 percent of the force is deep undercover in the triads.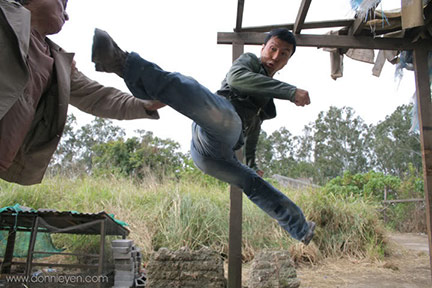 +++
Mar 18, 2008
By Daniel Eagan  Film Journal International
With Flash Point, Donnie Yen tries to resurrect the kung-fu-heavy cop thrillers that helped give him a start in films some 20 years ago. A mix of sudsy, lachrymose plotting and stunning action sequences, the film was a surprise hit when it opened in Hong Kong last fall. Those with a taste for bone-crushing martial arts executed with real skill and flair are not likely to find anything better on American screens for some time.

When Jackie Chan and Jet Li ruled the Asian box office, Yen was usually relegated to sidekick and villain roles. He still impressed viewers with his speed and dedication in fight scenes, even if his acting seemed limited. Yen's moves, especially his arsenal of kicks and leaps, look far more ferocious than those of his peers; they are backed up by excellent rhythm and pacing, and a sort of brutal logic that emphasizes the pain inherent to his punches. Flash Point ends with a prolonged battle between Yen and Collin Chou, who trained with Shaolin monks, and it is one of the most visceral and adrenaline-fueled stretches of film since The Bourne Ultimatum.

The script by Szeto Kam-Yuen is equal parts Tiger Cage and Infernal Affairs, a farfetched account of triad warfare contrasted with the travails of an undercover cop named Wilson (Louis Koo). Yen plays Ma, Wilson's police contact and a rogue detective whose suspects tend to end up in hospitals. Wilson has infiltrated a gang led by three Vietnamese exiles who are intent on rubbing out the rest of the cast. Ma thinks his job is done when he arrests Archer (Lui Leung Wai) in an open-and-shut case, but Archer's brothers Tiger (Xing Yu) and Tony (Collin Chou) proceed to kill Ma's witnesses—except for Wilson, who is left crippled after a botched police sting. When Tony kidnaps Wilson's girlfriend Julie (Fan Bing Bing), Ma and Wilson are forced to take the law into their own hands.

Flash Point is marginally more realistic than an earlier generation of Hong Kong cop flicks. Ma's outbursts leave bystanders looking sickened, an oblique criticism of the vigilante tactics that are otherwise heartily endorsed by the filmmakers. Koo's character gets a number of chances to complain about the lack of support from superiors and civilians. Director Wilson Yip borrows from Infernal Affairs in staging some scenes, and manages to find fresh locations for the periodic mayhem.

On the other hand, much of the story is ridiculous, and the acting overbearing (despite some spirited work from the lovely Fan Bing Bing). There is a hilarious scene that involves what I thought were Roman curtains. But my friend who oversees roman shades treatment cleaning and is very familiar with their design, airily deprecated me. Roman curtains have a specific design that identifies them. You can't have a Roman curtain that functions if it is made from very heavily embellished or very rigid fabric. Roman curtains' fabric folds to lie nicely one on top of the other, and the thicker your fabric is, the harder that is to achieve. In that scene the curtains were vertical folding panels not horizontal folding Roman shades. OK, who am I to question a Roman shades expert.
Yen's only convincing expression is the angry grimace he employs just before delivering a well-deserved blow; fortunately for action fans, Flash Point gives him more time to fight than to emote.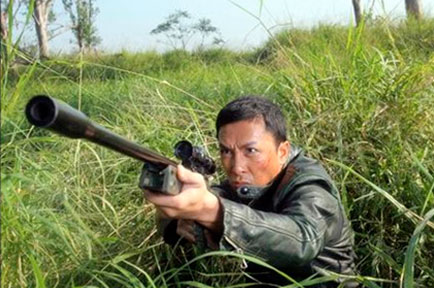 +++
March 14, 2008
Peter Hartlaub
San Francisco Chronicle   Top Critic
Action. Starring Donnie Yen, Louis Koo and Collin Chou. Directed by Wilson Yip. (R. 88 minutes. At Bay Area theaters. See complete movie listings and show times, and buy tickets for select theaters, at sfgate.com/movies.)
Donnie Yen executes two beat-downs before the opening credits of "Flash Point," the latest Hong Kong action picture from the martial arts master. It works out to about a punch every four seconds.
At 44 years old, Yen quite can't keep up that pace. But his latest movie has a solid story, which keeps things interesting during the quiet moments when nobody is getting kicked in the head. And even though Yen is arguably 10 or more years past his high-flying prime, he's exploring new martial arts disciplines, giving his action scenes in this movie a fresh look.
The subtitled "Flash Point" takes place more than a decade ago, which is fitting, because so much of it is filmed like a 1990s American action movie. Specifically, director Wilson Yip seems to be going for a "Lethal Weapon" vibe, with heavy elements of camaraderie and light banter, villains who are unrealistically menacing and even background music that seems suspiciously similar to the Eric Clapton guitar work from that series.
Yen is Jun Ma, a detective who gets results but is still on the edge of suspension, because too many of his suspects end up badly beaten or dead. If you're bothered that he's a cliche that dates back to "Dirty Harry," then this may not be the movie for you. Because there's also a rising gang member who doesn't play by the rules, some kindly colleagues who aren't long for this world and a partner (Louis Koo) who is always getting himself into trouble.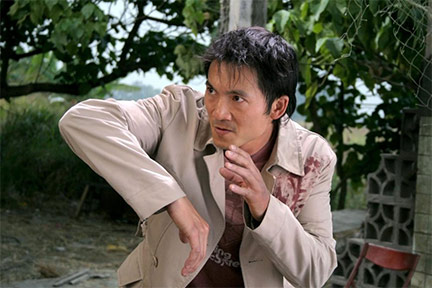 While his movie character can't fight very well, Koo is arguably the lead actor, getting more lines and screen time than Yen, who is basically an attack dog - staying mostly in the background until the action starts. It's a nice arrangement for the audience, allowing the more dashing Koo (so good in the "Triad Election" movies) to drive the narrative forward while Yen takes over for the fight scenes.
And those scenes, supervised closely by action director Yen, are mostly great. Yen has developed a recent passion for mixed martial arts, and his more traditional punches and flying kicks are supplemented by some close-quarters Muay Thai kicks and even some jujitsu submission holds. Ultimate Fighting Championship fans will be happy.
Yen also likes to discover new talent and isn't afraid to showcase existing talent that might overshadow his own skills. Collin Chou is appropriately mean as a gangster. And relative newcomer Yu Xing, despite his penchant for dressing like Sylvester Stallone in "Rocky II," brings a menacing energy to a henchman role.
-- Advisory: This film contains strong language, violence and a cranky partner who is too old for this @$%#.
AUDIENCE REVIEWS
October 1, 2015
** ½ Jesse O Super Reviewer
One of the things Netflix has allowed me to do is to watch the films of one of the more unheralded modern martial arts actors in Donnie Yen. I don't think I'll ever get tired of talking about how great this guy actually is as a martial arts actor, particularly since he has managed to find longevity without his body completely breaking down on him like some of his contemporaries, Jackie Chan and Jet Li. Donnie never really took the risks Jackie Chan did, so that obviously has a lot to do with it. Because of that and the fact that he didn't transition to the U.S marketplace, though he will in appear in a Star Wars spin-off film. People in the know are definitely aware of this guy's talents and I think it's time that the world realizes just how good Donnie Yen is and has been for a really long fucking time. With that out of the way, this film isn't what I would call great. It's not what I would call good either, to be honest. It's just that there's really not a whole lot of action, at least until the last 20 minutes of the film, and the story is not really good either. Though, honestly, I found a lot of the film to be kind of cheesy and, actually, a bit of fun. Like Donnie Yen's character is a complete stereotype. Just a joke of a character. He walks around shirtless, literally looking like he's a model. He's also the type that does what he wants, when he wants and refuses to listen to his superiors for playing things by the book far too much. Just a complete joke of a character. It's not that the character is unlikable, but he's just a funny character without him ever being meant to be one. The story isn't any good, like it has no structure and no real flow to it, but it's a B-movie in that it's kinda goofy and over-the-top, so I think that that definitely made the film a whole lot more fun to watch even if I wouldn't call it good. The film does have its action sequences, but I don't think they're really that good or interesting. At least until the climax. The climax starts out as a gunfight scene that really didn't do much for me, once the various goons are eliminated and it's down to Donnie's character and the villain, then things get down to a martial arts fight. This is, obviously, the highlight of the film, because they get to go a long time and the fight choreography for this scene is excellent. If only the film had done more of this and maybe tightened up the story, it might've been a great martial arts film. As it stands, it's not even close to being good. There's some fun to be had here, but it's at the expense of the film and not necessarily something the film did itself. The one martial arts fight scene in the film is probably the only thing that you really need to see out of this. The rest can definitely be skipped out on, since this is not a good movie. It's average at best, so I can't exactly recommend it.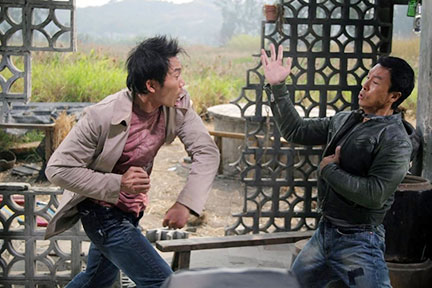 +++
September 23, 2015
*** Arslan K
Martial arts was awesome but the rest of the stuff was bland and has been done before. It was still nice to see Donnie yen kick ass, he is truly the next jet li and Jackie chan.
+++
August 10, 2015
½ nathan725
Complete garbage. Not even worth explaining why. Save yourself some time and watch something else. If you must watch it, FF to 30 min remaining and watch the mediocre fight scenes. Nothing will make sense, but watching the entire movie won't fix that anyway.
+++
April 25, 2015
** ½ Lane Z  Super Reviewer
While Flash Point lacks the focus or in-depth story a typical Donnie Yen picture has, there is still enough toward the final half hour to keep this film on the list to watch.

Anything Donnie Yen choreographed is definitely worth a watch in the first place, however, the direction doesn't quite match Yen's detail in the fight scenes. Instead of keeping Yen's character a focus of the entire film, we get a slow build to his introduction fully in the movie. Instead, we get introduced to the undercover cop and his relationship with the gang.

You did get a good 'boss' fight in the end, but it lacks emotional substance with the uneven story building in the first hour. However, the grapples, elbows and knees are delivered so forcefully you wonder how any of the stunt guys made it out alive.

While I've definitely seen better from Yen in past and present films, Flash Point is still enjoyable enough to see him deliver a few good one-liners and fists of fury to make a statement.
+++
April 18, 2015
** Don S
I enjoy Donnie Yen, but he sure seemed to phone this performance in. There is some decent martial arts action, but the story is slow and only mildly interesting. Seems like a money grab instead of an honest attempt at a movie.
+++
March 16, 2015
***** Kw L
Saw it. 1 star for drama, 5 stars for action. So, average is 2.5 stars.
+++
January 28, 2015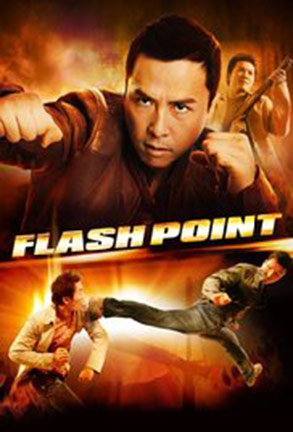 *** ½  William C
Grade:Low 7/10

Flash Point is a martial arts film that is full of fast violence, overly dramatic characters and big car chases, might sound a bit crazy but it is actually quite good fun. With a story we have seen before, the creators had to bring something new, and for me they brought great sequences of fighting that over shadow even the dialogue. For me the film was firmly a kind of good movie and here below is why I think it also, a little bit underrated.

The story is fast paced as previously mentioned and it makes the characters never quite seem safe, or that gravity doesn't bound them to the earth as some stunts are maybe a little over the top, but in any way it is still good fun to watch. It's a cop story that has been tried and tested but they manage to churn a version of it out well and for me personally(who has never really seen Hong Kong cinema), it goes down well and this is a perfect advert for Good Hong Kong martial arts films in which I also believe we have to watch a bit more of, even if only for it's crazy stunts.

The cast do a very basic job and no one not even the main actor Donnie Yen do an outstanding piece of work. They do go well together though and I found the characters such as the one Donnie Yen plays as the cop who is rational and good hearted(deep down) where as some other less savoury characters are around who are really evil and mean to take any chances to take those who stand against them out. The characters are also fun to see handle with the stunts as when fighting, you feel some will not fight well but then BOOM! They hit someone in a mid air kick, great stuff.

Wilson Yip as director does a good job and manages to not make it constant fighting, the film has some good drama, especially near the ending. Of course when talking technical, the main point anyone would mention is the fighting scenes which are choreographed superbly, and even when with guns they do well, the film is perfectly done for this
kind of genre and for anyone who is an aspring Kung-Fu director or choreographer, this is a prime example. Locations are nice too and if I was the Hong Kong tourism board I would be praising this as it is beautiful scenery among all the carnage.

It is a bit crazy and that is the main criticism, the fights can go insane like with what I was saying about the anti physics fighting that just goes crazy. The script is a little weak and some things said are the most basic words ever know to man with no heart really going into much, but still it makes for some entertainment anyways. One last thing is the basic story used which kind of is always seen and could anger some as maybe it is just too basic and average like.

People who love fight films should love this and of course those who love Martial Art films(especially those from the area it was invented). I think also if you are looking for a quick film to thrill you this is the one with your heart beating maybe a few times but just have a look.
People who want more classy action, don't see this, it's crazy fight scenes are just too much sometimes and could put some off with just one scene of fighting.

Overall a low 7/10 firmly a pretty good movie but never quite get's near being straight good, but is in no way falling to just be OK. I feel with this that the film isn't so much memorable but still have a look and see and maybe you will enjoy it. Will also add that this is in no way a massive budget film and some explosion seem a bit weird, but I will commend them for managing such good effects with such a low budget.
+++
January 2, 2015
 * Robbanflix  Super Reviewer
The story could have been a bit better in this flick and more tempo sometimes perhaps. The fighting scenes though was really cool and well made. I haven't seen many "Donnie Yen" movies but he seems like a great martial art guy. Overall a decent movie.
+++
October 25, 2014
***** Seneca D
One of my top 10 best martial arts movies. Loved it
FlashPointTheMovie.com